Senior Prosthetics Supervisor and Visual Creature Effects Art Director, Gino Acevedo originally hails from Arizona and has been working for the most part of his professional life in Los Angeles. He is a special effects technician with particular skill in special make-up, prosthetics and air brushing. Gino has worked on such projects as the

Alien

series,

Godzilla

, Men in Black and

The Nutty Professor

.

Gino oversaw all the special makeup requirements that Weta Workshop provided for

The Lord of the Rings

trilogy. This included hundreds and hundreds of noses, ears and feet as well as the countless full facial and full body make-up appliances for all of Middle-earth's non human inhabitants. Seven of the nine leads in the films wore some form of prosthetic appliance- a huge undertaking to say the least!

In addition, Gino oversaw the paint designs of all the films' creatures, including Gollum, and was directly involved in bringing the many digital creatures and characters to life.

This interview took place in 2007 and is exclusive to this site!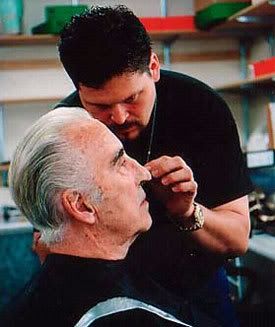 Gino putting prostetics on Christopher Lee (Saruman)
Your resume is quite long. From all the projects you have done, which one is your favorite, and more importantly, why?
Boy, that's a tough one. I have been so lucky to have had the opportunities to work on such great movie classics. Each project posed new challenges for me which I loved.
Alien 3
was an amazing project from the standpoint that I got to travel outside of the States for the first time. We filmed in London, England at the famous Pinewood Studios, where at the time most of the
James Bond
films were made there and shot in the
007
stage. This was one of the largest sound stages in the world and it was huge! They had also filmed
Aliens
there and the first
Batman
. I remember walking down the streets inside the studios and thinking of all the great talent that had been there.
The hardest and most challenging films would have to be the
The Lord of the Rings
trilogy. I have never worked so hard and so long in my life! It was a huge undertaking for every department. For me, the challenge was to train new makeup artists to apply and color prosthetics. Most of them had never applied any sort of prosthetics or airbrushed. So besides coming up with the color schemes for most of the creatures, I was also training new talent, and in the end what an amazing group of new talented artists came from that.
There were a couple of artists Domonie Till and Marjory Hamlin who were two of the top makeup artists in New Zealand so we were able to share new techniques with each other. Both Dom and Marjory became heads of departments on all three films. My job was to basically supervise all of the prosthetics on set. I am very proud of all of our work on this film, and it shows. But if you were to ask me would I work on another three films back to back, ah... well, let me get back to you on that one!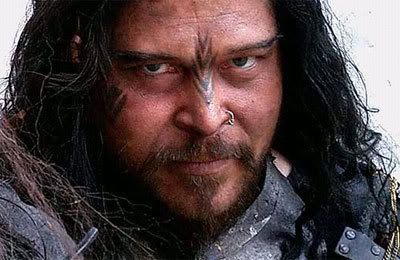 Gino played the part of a corsair in Return of the King
When working on The Lord of the Rings, did you face challenges you had not met at previous assignments?
There were many challenges everyday on set! Everything from making up 300 Orcs to trying to figure out a new material to use for skin that looked and felt like real skin. This particular challenge was for Gimli the dwarf. In the beginning, we found out that John Rhys-Davies was going to play the part. Now we all knew John's infamous role as Sallah, Indy's sidekick in two
Indiana Jones
movies. And since I was a huge fan of the films, I was very excited to be working with him! He was larger than life with his deep baritone voice, and of course the first thing that we had to ask him was to please say the famous line in the film, "Indy, why does the floor move? Ahh, asps! Very dangerous, you go first!" And he did, and so began our relationship for the next few years.
Jason our workshop supervisor at the time, took a head cast of John so that we could begin sculpting his dwarf transformation. Once we had the cast, Jamie Beswarick began sculpting John's appliance. The first part was the head cowl. We needed to change his head proportions to make him more dwarflike, by spreading the head out a bit and giving him larger ears.
The first makeup test that we did was using the standard foam latex for the appliance. Foam has been around for years and is a very versatile material but the only drawback is that it is opaque and not translucent like our skin is. Therefore great care and planning must go the coloration and what lighting will be used. Any opaque surface will reflect light as opposed to a translucent material that will absorb light.
Our first test with the foam went pretty well and we shot a film test in the studio with interior lighting, but when we took John outside to shoot, the appliance ended up looking very flat, like a mask. In the sunlight it had lost all of it 'fleshy' qualities that we had inside. We knew that this was going to be a problem and that we needed to find another solution and another material.
We thought of using gelatin which is a great material and we used it for Gandalf's, Saruman's and Wormtongue's noses along with all of the elf ears. But it is not very stable under heat and moisture. I know that John would be getting very hot in his costume and that it could turn into a real nightmare if his face melted off during filming so we decided against gelatin.
Back in the Los Angeles, I had been working with allot of silicones which is the next best thing to real flesh. It is translucent and soft like real skin, the only drawbacks are that it is quite heavy and it is very difficult to get any glues to stick to it. We knew that silicone was really our only choice to use, but we had to quickly find a way to get it to work as an appliance.
I worked with Weta technicians Ben and Luke Hawker and Jason Docherty to come up with a plan for using the silicone and we did at the last minute. So the Gimli face that you see in the film is a combination of foam latex, silicone and gelatin. Both Domonie and I put John in that torturous makeup over seventy times! Luckily, John and I are still great friends and I see him regularly.
John Rhys-Davies as Gimli
You had to learn to airbrush on a computer, how hard was it to learn it?
Learning how to paint in the computer was a whole new challenge! Give me paper and pencil and I can draw. But, if you give me keyboard, monitor and a million things to memorize like how to import the geometry that has been split for paint and how to save out as a tiff file and be careful not to overwrite what has already been done......well my head exploded! Luckily I had a very good teacher and friend Sergei Nevshupov, a very talented texture painter who had the unfortunate task of teaching me how to texture paint.
My first task was to paint Gollum! I had already developed the color scheme for him at the Workshop by physically painting on a silicone bust of him that Peter Jackson approved, but now that challenge was to paint him in the computer. I basically used my traditional skills of airbrushing and tried to use them in the computer by layering all of my colors to make the skin look translucent to my eye and I knew that if I could accomplish that, the shade writers who could add translucency to the skin would make it look even better.
At first the challenge was to get used to the idea of looking at the monitor screen and using my wacom tablet to draw on. So it was getting used to a whole new hand and eye co-ordination. It actually didn't take as long as I thought and I soon felt very comfortable using this new tool that I never had to worry about running out of paint and breathing bad paint fumes!
Weta Workshop became a one of the best special effects company's worldwide in a very short time. Do you think you're missing experience that other companies have?
I had been in the film industry in Los Angeles for about fifteen years before coming down to New Zealand. I feel that I brought a vast experience with me in film making and at the same time, learned a great deal of what Weta had to offer and what they had to work with. So it was very complimentary mix both ways.
What is your fondest memory of working on the production of The Lord of the Rings?
My fondest memory was probably how close that we all were and still are. It was very rare that three films are shot back to back; therefore both the cast and crew were together for many years.
After filming most of us would go out together and have dinner and drinks. We became a very tight family. I think that al ot of the actors for the first time felt really at home here in New Zealand and didn't have to worry about being mobbed by fans. They were all pretty much left to their own and their space was respected by most.
Back to the main page
All pictures and introduction are copyright © Weta. No copyright infringement in these pages is intended.