Why this website?
I have been a
Star Wars
fan for a long time. In the past have have worked for numerous websites including Wattographs.com, have helped organize conventions where I have worked close with actors like Anthony Daniels and have been featured in printed media like
Star Wars Insider
. Over the years I have interviewed many cast and crew members from the
Star Wars
movies. This website is a collection of them so that all he fans can read them.
Where do all these interviews come from?
EVERY interview was done by myself. Some in-person, some by phone, some by e-mail.
Some interviews were published before (I have stated that in the intro of each one) on websites like Wattographs.com, others are unique and are exclusive to this site.
If you have more questions, want to e-mail me for whatever reason: feel free to do so!
D.Pellegrom(at)gmail.com
You can also follow StarWarsInterviews on Twitter:
twitter.com/StarWarsINTRVWS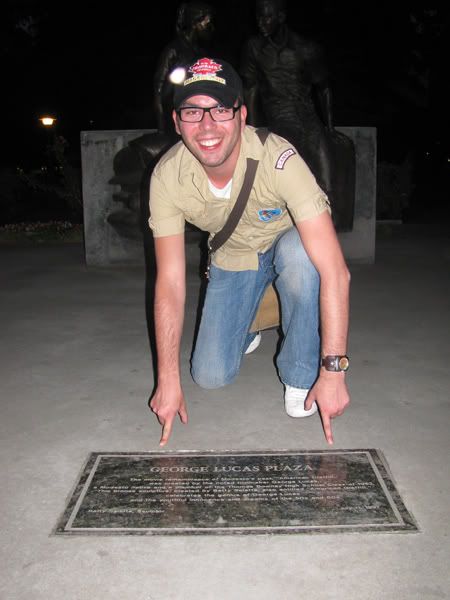 That's me at George Lucas Plaza in George Lucas' birthplace: Modesto, California, USA

Links
-
Galactica.tv
: site of partner-in-crime M.Damen
-
Galacticbinder
: it binds the galaxy together

Star Wars®, The Empire Strikes Back®, Return of the Jedi®, The Phantom Menace®, Attack of the Clones®, Revenge of the Sith®, Indiana Jones® and associated photographs, element and logos are property of Lucasfilm Ltd. This website is not endorsed or licensed by Lucasfilm Ltd.

All pictures, scans, music, and sounds from Star Wars® and the films, novels, associated elements and logos, and other licensed works based upon it are copyright © Lucasfilm, Ltd. No copyright infringement in these pages is intended. All such content (e.g., clips, stills, designs, artwork, etc.) is protected by intellectual property laws No claim of ownership nor reassignment of Lucasfilm's copyright and copyrighted material to any other parties is intended or inferred.

The Lord of the Rings and associated photographs, element and logos are property of NewLine. This website is not endorsed or licensed by NewLine.

StarWarsInterviews is an unofficial movie website. All content ©. No part of this website may be reproduced, stored in a retrieval system, or transmitted, in any form or by any means, without the prior permission in writing of the publisher, nor be otherwise circulated in any form of binding or cover other than that in which it is published.